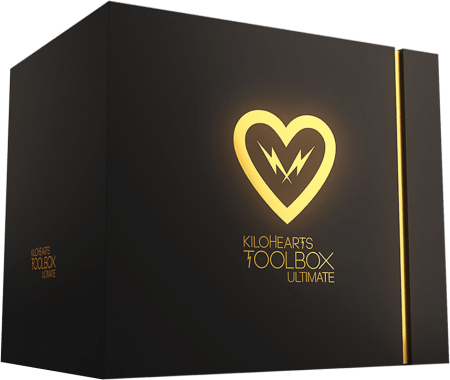 macOS [K] | 21 Nov 2020 | 85 MB
Kilohearts Toolbox ULTIMATE includes all the snapin hosts as well as all of kiloHearts' snapins.
Experience the flexibility of endless combinations between the effects and the host plugins!
Moving outside of the snapin eco-system, all other Kilohearts' plugins still support the modular workflow in one way or another (except kHs ONE). That's why kiloHearts created the kiloHearts Toolbox ULTIMATE which gives you everything they have ever released so you can get as creative as you like.
Explore the hundreds of professional factory presets throughout these plugins by various professional preset makers and artists from around the world (but mostly Germany by some fluke). Just Phase Plant alone has over 400 carefully curated presets to start you off before getting into modifying, and creating your own.
Featuring every snapin available, this bundle has you covered as far as sound design goes. Creative effects and utility tools in a great mix to get your inspiration going.
As you use more and more snapins the unified form language starts making your life easier, as you instantly recognize the recurring components and design patterns. Familiar interfaces will help speed up your process, and working exactly the same in every DAW makes these tools indispensable to the hardened professional that has to work across platforms while collaborating with artists and production teams around the globe.
Changelog v1.8.6
General
Added support for installing & loading content bank files with presets, samples, etc.
Added support for searchable tags in preset descriptions.
Added tags to all Phase Plant, Multipass, and Snap Heap factory presets.
Added factory presets to all Snapins.
Added "Go to Folder" in preset browser context menu.
Made subfolders visible in file list section of browsers.
Fixed a problem with text entry not always working properly on boolean parameters.
Fixed a visual glitch in text edit boxes causing the cursor to misalign.
Fixed a visual glitch that somes made the cursor in text edit boxes visible when it shouldn't be.
Fixed a problem where text edit boxes somes did not update properly when entering out of range values.
Fixed some more issues with the "preset edited" asterisk popping up when it shouldn't. You rascal.
Fixed a problem causing plugins to fail to load in Harrison Mixbus on Mac.
Fixed a problem with mouse dragging knobs etc. would be slower than it should.
Phase Plant
Made the fade handles in WT editor tools movable across the whole range.
Fixed Unison and Loop panels not being greyed out when a generator was disabled.
Fixed a problem where loop points wouldn't always be copied properly when duplicating a sampler.
Fixed hag notes that could occur when sustain pedal is released in monophonic mode.
Fixed Analog oscillator using a lot of CPU with some unison modes, in particular Pitch Stack.
Fixed DC offset problem in Analog sawtooth oscillator for high Shift values.
Tiny alignment fix in Wavetable generator display to make exactly 2 cycles of the waveform visible.
Tweaked browser icon mas in LFO and Sampler area.
Fixed a bug where undo/redo for parameters loaded from samples in Sampler did not work properly.
Fixed aliasing in the sampler when using certain unison modes
Added error messages for failing to import samples in the Wavetable editor, as well as a limit on sample length to avoid bad behaviour on too big samples.
Gain
Added a percent "fade" mode in addition to the current decibel "trim" mode.
Distortion
Fixed clicks at the bning of a voice when used on a poly lane in Phase Plant in Sine, Hardclip and Quantize modes and with Bias or Spread turned up.
Multipass
Fixed a problem where band splits could be processed incorrectly by the DSP after loading a preset.
kHs ONE
Fixed UI refresh problems on Mac making waveform selectors not update properly.
Fixed a problem where it would create an empty 'kiloHearts' folder in the user's AppData.
Snapins
Tweaked preset area layout to avoid some size glitches
VST 3
Fixed bad UI scaling behaviour on Windows High DPI screens.
Fixed zero velocity not being properly treated as note off.
AU
Fixed a bug where the editor UI would be listed as "Chorus" in the plugin view list of Logic Pro X.
Mac OS X 10.7 or newer
A DAW supporting VST 2, AAX, or Audio Unit plugin standards.
2 GHz CPU or faster
1 GB Memory or more
DOWNLOADuploadgigrapidgatornitroflare