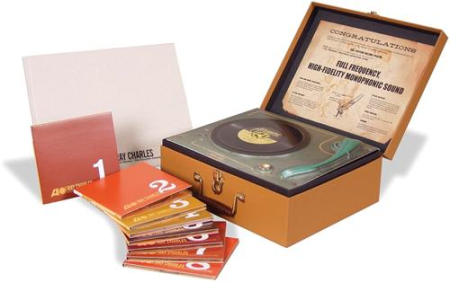 2005 | Rhythm & Blues, Soul Blues
MP3 320 Kbps | 1,39 Gb
Ray Charles is an American legend beyond compare. This deluxe eight-disc box set proves it by encompassing Ray's entire Atlantic Records repertoire on the first six CDs. Additionally, the set includes an entire disc (27 tracks, all but three previously unreleased) of outtakes, live recordings, and alternate versions. Plus, there's a bonus DVD that features Ray live at the Newport Jazz Festival in 1960 and an exclusive interview with Ahmet Ertegun, conducted by Ray Director Taylor Hackford. Special packaging features a record player-style box and a linen-bound hardback book. 2005.
.com
Jamie Foxx's Oscar-winning turn as Ray Charles could only touch on the musical highlights of the American musical legend's career. But for those further intrigued by Charles' savory musical roots, this seven CD/one DVD anthology of Charles' epochal career at Atlantic Records (who purchased the fledgling star's contract from a small L.A. label for $2500) is the ultimate chronicle. While the singer's recorded output for the label was typically shuffled and jumbled across a series of contemporary albums and compilations, this set offers them up chronologically as originally recorded in NYC, New Orleans and elsewhere, a gambit that allows a clearer insight into the musician's artistic growth and burgeoning confidence as a performer in the bargain. Though focused on the `fervent r&b and soul sides he cut before crossing over into country and pop in the ?60s, Charles' Atlantic tenure also includes insightful excursions into small jazz combo work that further underscored the range of his incomparable gifts.
The final CD in the set is a treasure trove of unreleased (mostly) solo performances that range from a lengthy 1953 rehearsal tape to a handful of hotel room-recorded arrangement demos for his 1959 Genius of Ray Charles collection. The set's DVD is another welcome bonus, containing the legend's complete performance at the 1960 Newport Jazz Festival (though he'd just left Atlantic, his repertoire and band for the show are rooted in the era), capped with the modern risces of Atlantic founder Ahmet Ertegun. Lavishly packaged in a box that replicates a 50's-era 45-player and featuring a hard-bound liner book that includes reprints of the original albums' liner notes, a comprehensive sessionography and an insightful new essay from noted r&b biographer David Ritz, the collection lives up to its billing at every level: Pure genius, indeed. --Jerry McCulley
Disc 1:
01. The Sun's Gonna Shine Again
02. Roll With My Baby
03. The Midnight Hour
04. Jumpin' In The Mornin'
05. It Should've Been Me
06. Losing Hand
07. Heartbreaker
08. Sinner's Prayer
09. Mess Around
10. Funny (But I Still Love You)
11. Feelin' Sad
12. I Wonder Who
13. Don't You Know
14. Nobody Cares
15. Ray's Blues
16. I Got A Break Baby
17. Blackjack
18. I've Got A Woman
19. Greenbacks
20. Come Back Baby
21. A Fool For You
22. This Little Girl Of Mine
23. Hard s (No One Knows Better Than I)
24. Blues Hangover
25. Mary Ann
26. Drown In My Own Tears
27. Hallelujah I Love Her So
28. What Would I Do Without You
Disc 2:
01. Dawn Ray
02. The Man I Love
03. Music, Music, Music
04. Black Coffee
05. Lonely Avenue
06. I Want To Know
07. Leave My Woman Alone
08. The Ray
09. I Surrender Dear
10. Bornful Soul
11. Ain't Misbehavin'
12. Joy Ride
13. Sweet Sixteen Bars
14. Doodlin'
15. There's No You
16. Undecided
17. My Melancholy Baby
18. It's All Right
19. Ain't That Love
Disc 3:
01. Rockhouse Parts 1 & 2
02. Get On The Right Track Baby
03. Swanee River Rock (Talkin' 'Bout That River)
04. That's Enough
05. Talkin' 'Bout You
06. What Kind Of Man Are You
07. I Want A Little Girl
08. Milt Jackson & Ray Charles / How Long Blues
09. Milt Jackson & Ray Charles / Cosmic Ray
10. The Genius After Hours
11. Charlesville
12. Milt Jackson & Ray Charles / Bags Of Blues
13. Milt Jackson & Ray Charles / Deed I Do
14. Milt Jackson & Ray Charles / Blue Funk
15. Milt Jackson & Ray Charles / Soul Brothers
Disc 4:
01. Bag's Guitar Blues (with Milt Jackson)
02. Yes Indeed!
03. I Had A Dream
04. You Be My Baby
05. Tell All The World About You
06. My Bonnie
07. Soul Meeting (with Milt Jackson)
08. Hallelujah, I Love Her So (with Milt Jackson)
09. Blue Genius (with Milt Jackson)
10. X-Ray Blues (with Milt Jackson)
11. Love On My Mind (with Milt Jackson)
12. The Spirit-Feel (Live, 1958)
13. Blues Waltz (Live, 1958)
14. In A Little Spanish Town (Live, 1958)
15. Sherry (Live, 1958)
16. (Night Is) The Right (Live, 1958)
17. A Fool For You (Live, 1958)
Disc 5:
01. I've Got A Woman (Live, 1958)
02. Talkin' Bout You (Live, 1958)
03. Swanee River Rock (Talkin' 'Bout That River) - (Live, 1958)
04. Yes Indeed! (Live, 1958)
05. Early In The Mornin'
06. (Night Is) The Right
07. Carrying That Load (Single Version)
08. Carrying That Load (LP Version)
09. Tell Me How Do You Feel
10. David Newman / Fathead
11. David Newman / Tin Tin Deo
12. David Newman / Bill For Bennie
13. David Newman / Hard s
14. David Newman / Mean To Me
15. David Newman / Sweet Eyes
16. David Newman / Weird Beard
17. David Newman / Willow Weep For Me
18. Tell The Truth
19. What'd I Say Parts I & II (Mono LP Version)
Disc 6:
01. What'd I Say Parts I & II (Stereo LP Version)
02. Tell Me You'll Wait For Me
03. Come Rain Or Come Shine
04. Don't Let The Sun Catch You Cryin'
05. Just For A Thrill
06. You Won't Let Me Go
07. Am I Blue
08. The Spirit-Feel (Live, 1959)
09. Frenesi (Live, 1959)
10. Tell The Truth (Live, 1959)
11. Drown In My Own Tears (Live, 1959)
12. (Night Is) The Right (Live, 1959)
13. What'd I Say (Live, 1959)
14. Let The Good s Roll
15. Alexander's Rag Band
16. Deed I Do
17. When Your Lover Has Gone
18. Two Years Of Torture
19. It Had To Be You
20. I'm Movin' On
21. I Believe To My Soul
Disc 7:
01. Baby Let Me Hold Your Hand (Rehearsal Session with Ahmet Ertegun - 1953)
02. Unknown Title (Rehearsal Session with Ahmet Ertegun - 1953)
03. Piano Improvisation & Dialog #1 (Rehearsal Session with Ahmet Ertegun - 1953)
04. Losing Hand & Dialog #1 (Rehearsal Session with Ahmet Ertegun - 1953)
05. Little Rock Getaway & Dialog (Rehearsal Session with Ahmet Ertegun - 1953)
06. Kentucky Waltz (Rehearsal Session with Ahmet Ertegun - 1953)
07. Heartbreaker (Instrumental Version) - (Rehearsal Session with Ahmet Ertegun - 1953)
08. Heartbreaker & Dialog (Rehearsal Session with Ahmet Ertegun - 1953)
09. Piano Improvisation & Dialog #2 (Rehearsal Session with Ahmet Ertegun - 1953)
10. Heartbreaker (False Starts 1 & 2) - (Rehearsal Session with Ahmet Ertegun - 1953)
11. Losing Hand & Dialog #2 (Rehearsal Session with Ahmet Ertegun - 1953)
12. Losing Hand & Dialog #3 (W/ Reverb) - (Rehearsal Session with Ahmet Ertegun - 1953)
13. Losing Hand & Dialog #4 (W/ Reverb) - (Rehearsal Session with Ahmet Ertegun - 1953)
14. Heartbreaker (Rehearsal Session with Ahmet Ertegun - 1953)
15. It Should've Been Me & Dialog (Rehearsal Session with Ahmet Ertegun - 1953)
16. Nobody Cares (Rehearsal Session with Ahmet Ertegun - 1953)
17. Piano Improvisation & Dialog #3 (Rehearsal Session with Ahmet Ertegun - 1953)
18. Mess Around (Rehearsal Session with Ahmet Ertegun - 1953)
19. Funny (But I Still Love You) - (Rehearsal Session with Ahmet Ertegun - 1953)
20. Sinner's Prayer (Rehearsal Session with Ahmet Ertegun - 1953)
21. Piano Improvisation & Dialog #4 (Rehearsal Session with Ahmet Ertegun - 1953)
22. Low Society & Dialog #1 (Rehearsal Session with Ahmet Ertegun - 1953)
23. Boogie Woogie (Rehearsal Session with Ahmet Ertegun - 1953)
24. Low Society & Dialog #2 (Rehearsal Session with Ahmet Ertegun - 1953)
25. Worried Life Blues (Rehearsal Session with Ahmet Ertegun - 1953)
26. Come Back Baby (Walter Davis Version) & Dialog (Rehearsal Session with Ahmet Ertegun - 1953)
27. Low Society (Rehearsal Session with Ahmet Ertegun - 1953)
28. (Night Is) The Right (Takes 1-7) & Dialog (Recording Session Outtake 1958)
29. Tell Me How Do You Feel (Take 1) - (Recording Session Outtake 1958)
30. Dialog (Ray's Arrangement Suggestions for The Genius Of Ray Charles Album 1959)
31. It Had To Be You & Dialog (Ray's Arrangement Suggestions for The Genius Of Ray Charles Album 1959)
32. My Buddy & Dialog (Ray's Arrangement Suggestions for The Genius Of Ray Charles Album 1959)
33. Dialog (Ray's Arrangement Suggestions for The Genius Of Ray Charles Album 1959)
34. When Your Love Has Gone & Dialog (Ray's Arrangement Suggestions for The Genius Of Ray Charles Album 1959)
35. I'm Bning To See The Light (Ray's Arrangement Suggestions for The Genius Of Ray Charles Album 1959)
36. Let The Good s Roll & Dialog (Ray's Arrangement Suggestions for The Genius Of Ray Charles Album 1959)
DOWNLOADuploadgigrapidgatornitroflare