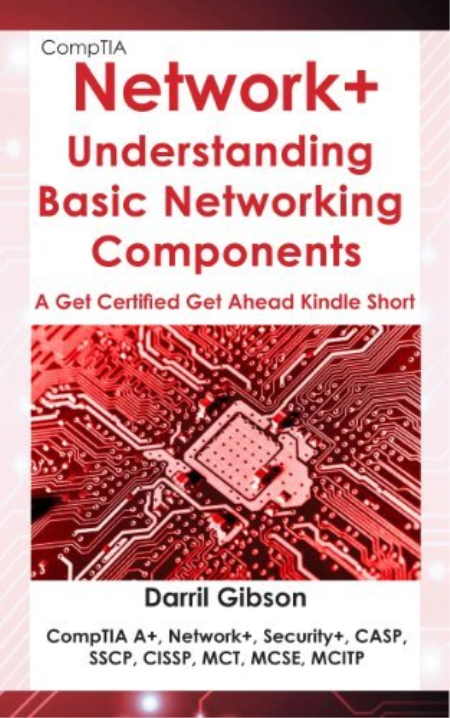 English | 2013 | ASIN: B00D96TVN4 | 638 pages | PDF, AZW3 | 2.33 MB
Get a solid understanding of the core networking components covered in the CompTIA Network+ N10-005 exam.
Some common networking components include switches, routers, access points, and firewalls. They are used in LANs, MANs, WANs, and VPNs within a variety of different network topologies such as Star, Ring, Mesh, and Bus topologies. Network technicians need to understand these topics to successfully plan and implement a small office home office (SOHO) network.
This Kindle Short gives you what you need to master these topics to help you pass the CompTIA Network+ exam the first you take it. It also covers the CompTIA troubleshooting model.
Test your readiness with 29 realistic practice test questions on the following Network+ objectives:
1.8 Given a scenario, implement the following network troubleshooting methodology:
2.6 Given a set of requirements, plan and implement a basic SOHO network.
3.5 Describe different network topologies.
This book also includes 15 bonus questions from other Network+ topics such as the OSI model, network tools, and wireless networks.
Each question includes in-depth explanations so that you'll know why the correct answer is correct and why the incorrect answers are incorrect.
This Kindle Short will be part of the full CompTIA Network+ Get Certified Get Ahead Study Guide written in the same style as the top selling CompTIA Security+: Get Certified Get Ahead Study Guide. It includes the following sections:
- Introduction. Full description of the Network+ exam letting you know what you can expect when you take it. The introduction includes a section on the question types you can expect including information on the performance based questions.
- Assessment questions. A short 7-question assessment exam with realistic practice test questions to help you assess your understanding of key topics. All questions have in-depth explanations and this Kindle Short covers the content in more depth.
- Full chapter: "Understanding Basic Networking Components." A full chapter introducing common networking components and how they are configured in LANs, MANs, WANs, and VPNs. Network topologies such as star, ring, and mesh topologies are explained. You'll also learn key information needed to plan and implement a SOHO network, and the CompTIA troubleshooting model. The chapter includes "Remember This" text boxes throughout to help you focus on what you need to know for the exam.
- Exam review. Review key testable information with this concise review section.
- End of chapter practice test questions. 15 realistic practice test questions at the end of the chapter. Use these questions to test your understanding of the objectives covered in this Kindle short. The explanations help you master the content so that you can answer questions on the live exam no matter how CompTIA words them.
- Practice test questions. 7 more realistic practice test questions in an end of book practice exam. As with all other questions in this Kindle Short, these questions include in-depth explanations.
- Bonus Network+ practice test questions. 15 more realistic practice test questions from other topics in the Network+ exam. This section includes five questions on Network+ tools, five questions on the OSI model, and five questions on wireless technologies.
- Acronym list. An acronym list covering all of the acronyms in this eBook plus many more needed for the Network+ exam.
You can use this Kindle Short along with other Kindle Shorts in the Get Certified Get Ahead Kindle Short series to focus your preparation for the Network+ exam. Search with "Gibson Kindle Shorts" to see them all.
Get Certified and Get Ahead.
DOWNLOADuploadgigrapidgatornitroflare